Monday, March 25th, 2013
It was back in 1973 when a young Aussie working in the UK bought a retired London double decker bus, kitted it out with bunk beds, and took a trip to Morocco with a bunch of mates. Topdeck was born!
Fast forward to 2013 and Topdeck is turning 40. How time flies! To celebrate this milestone, we're excited to announce that we'll once again be naming our coaches in Europe, just as our original 'deckers' were individually named all those years ago.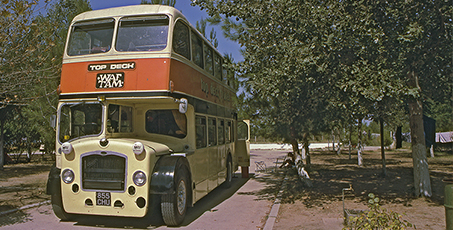 It's been an incredible ride over the past four decades, and we're happy to say that Topdeck in 2013 is doing better than ever before.
This amazing journey wouldn't have been possible without the hundreds of thousands of Topdeck passengers and crew who've helped shape our past. We can't thank you guys enough!
It's in recognition of our incredible history that we've decided to bring back the coach names in 2013, and this is where we need YOU to help!
We're looking to you Topdeckers to help choose the name of the very first coach in our modern European fleet to be christened.
We've selected a shortlist of names, all of which belonged to an old Topdeck 'decker', and we'd like you to vote for your favourite. Who knows, travel with Topdeck in Europe this year and you might just find yourself travelling on the coach you helped name!
Here are the nominees:
1) Casper
2) Hannibal
3) Moose
4) Phoenix
5) Roxanne
6) Tadpoles
To vote, simply check out our facebook page at www.facebook.com/TopdeckTravel, where you'll be able to cast your ballot (closes March 31, 2013).
Here's to the next 40 years!