Thursday, December 13th, 2012
Big crowds, long lines & sunburnt skin; what's so good about summer travel anyway? Travelling Europe during winter is just as much fun and most of the time without those overcrowded sightseeing locations and long queues. One difficulty many people face is knowing exactly what they need to fold, roll and vacuum pack into their bag to ensure they have the right items to get them through their winter travels.
Here at Topdeck we have years of winter travel experience! Below are a few things that might help you decide on what to pack for your next winter trip.
Suggested clothing list..
1 pair of comfortable walking shoes (good grip for icy walkways)
1 pair of smart casual shoes
2 pairs jeans/trousers
Plenty of underwear and thick socks
4 shirts/t-shirts/long sleeved shirts
2 sweaters/jumpers
Smart casual evening wear
1 rainproof jacket and/or umbrella
1 warm jacket/coat
Hat, beanie, scarf & gloves
Sunglasses (sun + snow can be a blinder!)
Additional, but not so essential items..

Lip balm
Portable clothes line
Cold & Flu meds (just in case)
Multivitamins
Hand warmers
Thermal clothing, or a nice animal print 'onesie'
Portable toilet seat warmers
Items you could probably leave behind..
Coconut tanning oil
One of those hats with a fan on top
The stick usually used to barge through the summer crowds
Your 'Hot Summer Hits' compilation playlist
Aloe Vera after sun spray
Budgie smugglers
Borat Mankini
Of course these are only suggestions; we would love to know if you have any items that you can't travel without in winter, along with any items you think you definitely wouldn't need!
Still unsure what you'll need in your bag? Check out your Pre Departure document which contains more detailed information on what you could take. This will be emailed to you upon booking, or can be downloaded from the trip page on our website.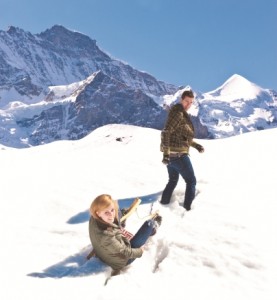 Fancy experiencing a European winter with Topdeck?
We currently have a cool 10% off selected winter trips departing in Dec 2012 & Jan 2013!