Tuesday, April 9th, 2013
9. Re-enact Gladiator in the Colosseum
"ARE YOU NOT ENTERTAINED? IS THIS NOT WHY YOU ARE HERE?"
The Colosseum is truly remarkable, even by Rome's lofty standards. It may have lost some of its shell to an earthquake, but this crumbled edifice retains the imperious air of an old Roman commander; unbowed by centuries of neglect, impervious to the relentless march of time, it stands tall and proud over all it surveys.
Centrepiece of the mighty Roman Empire, the Colosseum was completed in 80AD and has witnessed thousands of deaths during its blood-soaked history. Here gladiators would engage in mortal combat while crowds of over 50,000 Romans cheered on their every sword stroke and spear thrust.
It wasn't just plain one-on-one combat; historic battles were re-enacted using moveable sets, while other contests pitted man against beast. Exotic animals such as lions, elephants, bears and giraffes from far-flung corners of the Empire really drew the crowds.
Emperors put on free Games to increase their popularity – Trajan once celebrated a victory with 123 days of games featuring 11,000 animals and 10,000 gladiators!
And what better setting to host them than the Colosseum, an arena to match any modern sports stadium. Standing nearly 50m tall, the Colosseum was so well designed that it could supposedly be emptied from full in just 8 minutes. The seating was sectioned, events were catered, and a moveable awning protected the masses from the searing Roman sun.
The spectacle was memorably recreated in Ridley Scott's epic movie Gladiator, the Oscar-winning film of 2000 starring Russell Crowe.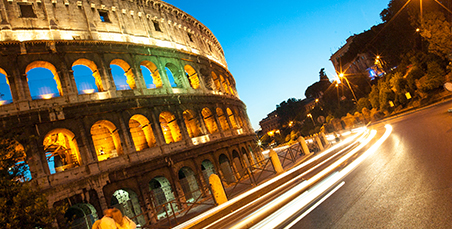 One of the most eye-catching scenes is when Crowe's character Maximus strides in to the arena for the first time. For viewers who visit the Colosseum, it's easy to picture yourself as the betrayed, tough-as-nails former General entering the arena.
Where today the bowels of the stadium are revealed, instead picture the sandy blood-soaked floor. Where the empty tiers rise above you, picture endless rows of expectant Romans. And if you concentrate very hard, where the Emperor's box used to be, you can picture Joaquin Phoenix as the evil Commodus…
And so in one of the most iconic structures on earth, you have the chance to be in your own private Hollywood movie.
Stand with your back to the arena, head bowed, as Commodus approaches behind you. Then slowly, with the weight of grief and anger rising, turn and remove your invisible helmet, and solemnly declare:
"My name is Maximus Decimus Meridius, commander of the Armies of the North, General of the Felix Legions, loyal servant to the true emperor, Marcus Aurelius… father to a murdered son, husband to a murdered wife, and I will have my vengeance, in this life or the next."
What's that you say? People will stare?
Well you never know, perhaps one will be a casting agent!
Topdeck Top Tip: An audio guide will give you some juicy information as you explore the Colosseum at your own pace. Simply get in the audio guide queue once through the main entrance. You can get your entrance ticket there as well!
A Maximus-eye view of the Colosseum http://www.metacafe.com/watch/an-F8pW4YJbYhbmY4/gladiator_2000_entering_the_colosseum/
Practice your lines: http://www.youtube.com/watch?v=X1UmHfWCw-4