Tuesday, May 14th, 2013
14. Gamble in a Famous Casino
Stepping into the Monte-Carlo Casino in Monaco is as close to stepping into a James Bond film as most of us will get. Billionaires and their bejewelled wives sit sipping cocktails while pushing inordinate amounts of money around the tables. The unflappable croupiers roll a dice or deal a card, and within seconds tens of thousands of Euros have changed hands. Nobody bats an eyelid, apart from the fascinated onlookers. An evening mingling with the rich and famous of Monaco is a truly unforgettable experience!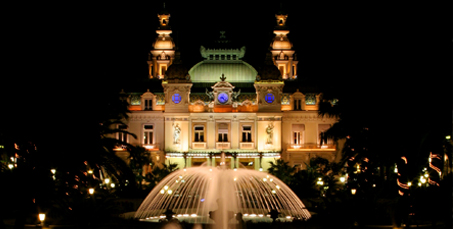 At barely two miles long and half a mile wide, Monaco is the 2nd smallest country in the world, but its generous tax laws (very generous – residents pay no income tax at all!) mean this tiny country is a haven for the rich and famous of European society. Everybody from Formula One star Jenson Button to former Mr. Bond himself Roger Moore reside here, but you won't spot any of them in the casinos as residents of Monaco are banned from entering. James Bond had a flutter in the Monte-Carlo Casino in no less than three movies - Never Say Never Again, GoldenEye and Casino Royale.
While Monaco is undoubtedly the most famous gambling destination in Europe, it's rivalled by a very different city in North America – Las Vegas. They say that everything is bigger in America, and the sheer size of the casinos in Sin City itself is something miniscule Monaco could never compete with.
Bellagio, built in 1998, is one of the newest additions to the Las Vegas strip. It features botanical gardens, a fine art gallery, and, of course, one of the most luxurious casinos ever built. The traffic-stopping fountain and neon lights show outside Bellagio is truly breath-taking, and epitomises the extravagant spirit of Vegas. The fountains dance to a soundtrack of appropriate music including Elvis Presley's "Viva Las Vegas" and Frank Sinatra's "Luck be a Lady".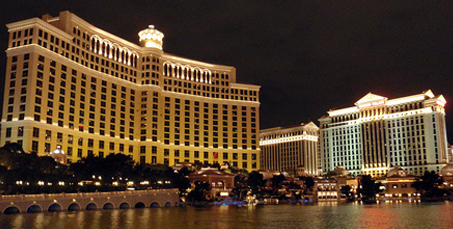 Gambling is far from the only attraction in Vegas. Surrounded by desert, the city is an oasis of world-class shopping, fine dining, and 24-hour nightlife.
Even if having a flutter isn't your thing, the insides of the Monte-Carlo Casino and Bellagio have to be seen to be believed. Go in and transport yourself into a different world, where celebrities, billionaires, and us normal people brush shoulders and sit at the same tables! Good luck!
Topdeck Top Tip: Cameras aren't allowed in the Monte-Carlo Casino in Monaco, and you'll need your passport which they'll scan upon entry. Remember the house always wins, so only bet what you can afford to lose!
The water fountain show outside the Bellagio in Las Vegas: www.youtube.com/watch?v=GfxDkmI_wFw
Catch a glimpse of inside the Monte-Carlo in James Bond's 'Golden Eye' movie: www.youtube.com/watch?v=IJpc-zXc4cc