Wednesday, October 17th, 2012
After arriving in London with a hiss and a roar and trying to find our way around on the Underground my travel buddy and good friend, Saatchi and I eventually pushed open the doors of The Clink (our hostel) and the departure point for our 26 Summer Fun + Sailing Topdeck trip around Europe. Little did we know we were about to embark on the journey of a lifetime.
Paris, France
What an amazing city! Paris really is exactly like it is described in the books and movies. On the day we arrived we all tried out the traditional French cuisine of escargot (which being snails and garlic were surprisingly, not as bad as expected!) followed by an amazing 'city lights tour' by night where we got to see all the magnificent sights of Paris in all their glory. I finished the evening off with a nightcap at the local pub with some new found Topdeck pals which ended with a heartfelt marriage proposal from the bartender - Paris, the city of love right?!
As our second day in Paris was a free day we had all the time in the world to go and see the sights starting with walking up all 669 stairs of the Eiffel Tower (impressed? - especially after the big night previously), before making my way down to the Louvre with Saatchi and new friends Lea and Dee. Of course we posed for the token tourist photo and saw a little famous painting by the name of 'Mona Lisa'; visited the Notre Dame which by standing in its presence alone you could feel the spirituality that surrounded it; and marvelled at the Arc de Triomphe. That night we enjoyed a picnic dinner under the Eiffel Tower and there was an optional activity to watch a traditional French Cabaret show or to cruise the River Seine by boat -which was fantastic apart from the downpour which drenched us all!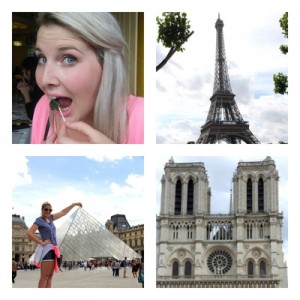 I was lucky enough to be standing underneath the Eiffel Tower at 10PM when the twinkling lights display took place. It really was such a magical moment and a memory that will stay with me always.
Lauterbrunnen, Swiss Alps, Switzerland
After the beautiful sights of Paris I was expecting it to be tough for any other country to live up to it but I was proved wrong when our coach rolled into Lauterbrunnen; this little town was breathtakingly beautiful. The scenery was amazing, waterfalls, snow-peaked mountains, little streams running between dainty cottages and lots of green, a perfect setting for a 'Sound of Music' yodelling opportunity. It was also the place where I got the chance to travel to the summit of Jungfrau mountain; otherwise known as the 'Top of Europe', where we were able to admire the displays in the ice museum and have the chance to play in buckets of snow; For some of my group this was their first time seeing it. Something I learnt, show a group of 18-30 year olds snow and they will be entertained for hours!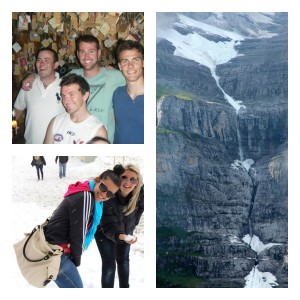 That night our Topdeck group got a bit wild and well acquainted by having a good dance and chin wag in the onsite bar of our cosy cabin accommodation. I can pinpoint this night of the trip where strong friendships were set in stone.
Nice, French Rivera,
This place was BEAUTIFUL! To come from chilly Lautenburren, to blazing hot Nice was crazy; the sun was always shining and the crystal blue waters of the Mediterranean Sea lapped happily on the pebble stone beaches. As soon as we arrived we hit the beach for a sunbathe and cruised the main streets browsing shops and eating some of the world's most amazing pizza - seriously! That evening we walked the streets in the warm night air and took in the sights and sounds of this busy city; enjoying what a local Irish bar near our hostel had on offer, which in one of my fellow Topdecker Ellie's case was Irishman Dennis (her heart was left behind in Nice). We finished the night off by enjoying a quick 3AM dip which saw a few of the group lose their clothes- oops!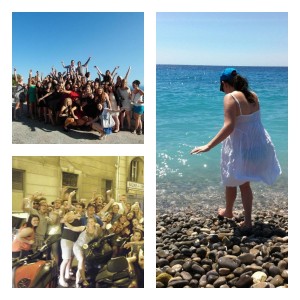 An evening trip to Monaco found us visiting the famous Grand Casino and rubbing shoulders with some of the country's wealthiest people followed by an incredible fireworks display that went on for around 30 minutes - put on just for us I am sure!
Florence, Italy
Before arriving in Florence we visited the Leaning Tower of Pisa. I was lucky enough to have visited this tower previously in 2006 and I could not get over how much the building has continued to lean in that time! With the rate that it seems to be moving, I feel privileged to have seen it twice in my lifetime. Our accommodation in Florence, Plus Hostel, was by far my favourite accommodation on the trip. It had a pool and introduced us to the infamous cocktail buckets. It was also the location where our trip song 'Take Your Shirt Off' was determined (and taken quite literally!) on the dance floor.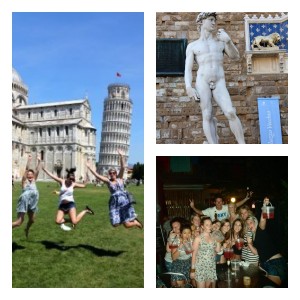 We did a fantastic walking tour around Florence with a local guide which allowed us to see some of the beautiful architecture (and Italian men!) of this city and admire the famous statue replicas, like David, in Piazza della Signoria square.
Rome, Italy
Ah…Rome. The food; the buildings; the people; the weather; the history - it was just so overwhelming and perfect in every single way! The first night we arrived we were taken on a walk around the city to view the magnificent sights (and we still didn't see everything Rome could offer in this time!). We were lucky enough to see most of the famous landmarks however, such as Trevi Fountain, Spanish Steps, Santa Maria de Popolo, Monument of Emmanuel, Roman Forum, Pantheon and of course the Colosseum. The next morning was spent exploring the ancient walls of Vatican City and looking up at the precise Michelangelo painting on the Sistine Chapel roof, which can only be described as incredible. We stayed at a great campsite called 'Camping Roma' which was host to the infamous 'Topdeck Toga Party' and this party did not disappoint. Everyone dressed up to the nine's in their bed sheets, and made head pieces out of flowers picked from the garden (thanks KB!) and for a night we were all Roman gods and goddesses. We danced into the wee hours of the morning, lots of laughs shared and another cheeky appearance from those cocktail buckets!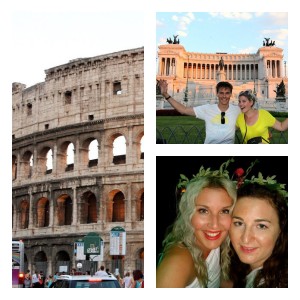 Rome had so many highlights for me - seeing the Monument of Emmanuel was a highlight, it really is my favourite building! Making a wish at the Trevi Fountain (fingers crossed it comes true!) and the traditional Topdeck toga party - which was one of life's best parties, no lie!
Flotilla Sailing - Greek Islands,
Where do I start with Flotilla Sailing through the Greek Islands? I can confidently say that this was a huge highlight for not only me but for a number of group members and a major reason why we chose this particular Topdeck trip. This was 3 full days of absolute bliss - floating upon lilos on crystal blue waters, donning Captain hats, docking at small, intimate islands each night that showcased different cultures; learning to sail our little flotilla yachts; sunbathing and water sports fun. We were even taught a traditional Greek dance one night, which taught me one of life's necessary activities, carrying a table with my teeth! Unfortunately, no plate smashing was involved. A group meal on the first night of sailing erupted with loud, shrill girly screams (and a few teary eyes from the boys - which they are yet to admit) when Tim proposed to girlfriend Jess, and she said YES! It was such an awesome moment to experience and to be a part of, and I wish the happy couple all the love in life!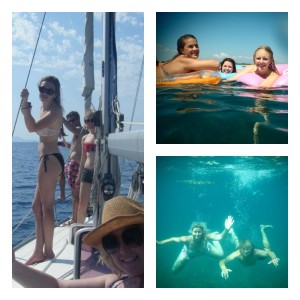 It was when we were sailing that I can determine the happiest I felt on the whole trip; We had just left the dock, the sun was shining and my favourite song was playing on the radio, when a pod of dolphins came out from nowhere and started swimming next to our boat, I don't think I have smiled so much in my life!
Please check back next week for Part 2 of Summer Fun + Sailing - Dreams becoming Reality