Tuesday, May 28th, 2013
16. Drive the Great Ocean Road.
The Great Ocean Road is one of the world's most spectacular drives, hugging the wild and windswept south-eastern coast of Australia. At 243 kilometres long, the road not only offers  some amazingly diverse scenery, but also heaps of unexpected delights – whale lookouts, mountain ranges, rainforests, historic port towns, and, perhaps most famous of all, the Twelve Apostles – craggy limestone stacks rising majestically out of the Southern Ocean. Breathtaking!
The Great Ocean Road is made even more special by its history. In 1919, one year after the end of the First World War, it was commissioned as a memorial for the 60,000 Australian servicemen and women who had made the ultimate sacrifice and lost their lives during the war. Around 3,000 servicemen who had returned to Australia after the war began work on the road. Construction was done by hand – the soldiers used picks and shovels to hack through dense rainforest. Many lost their lives around the steep coastal cliffs.
In 1924 an old steam boat became stranded near the shore and had to release its cargo to free itself, which included 500 barrels of beer and 120 cases of spirits. The diggers helped themselves to the abandoned alcohol which resulted in an unscheduled and well-deserved drinks break lasting two weeks! Drinks breaks aside, the road was officially completed in 1932, and became the world's largest war memorial (by quite a distance!).
The new road opened sparsely-populated and isolated communities from Torquay to Allansford up to the outside world – bringing money and tourism into the whole state of Victoria. The relatively recent construction of the road means that this wonderful stretch of rugged coastline is, in many parts, unspoilt and untouched.
From the Lord Arch Gorge, a scenic bay engulfed by cliffs, to London Bridge, a natural arch created by the immense power of the sea – there is a new wonder around almost every corner. Top of the list of attractions is the astounding Twelve Apostles towering out of the sea - recently voted the best place in Australia to watch a sunset.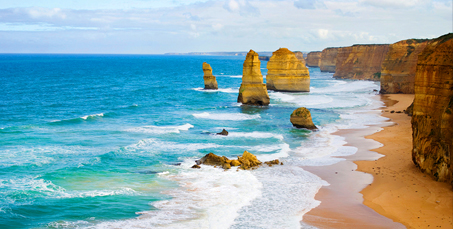 The Great Ocean Road is not only astoundingly beautiful, but also poignant and thought-provoking. It gives a small insight into what inspired Australian soldiers in the Great War when fighting to protect the beauty of their homeland. The Great Ocean Road takes its place easily on Topdeck's list of 40 things to do before you're 40.
Topdeck Top Tip: Don't rush through the Great Ocean Road! It may be easily driveable in one day, but you'll appreciate it much more by taking the time to explore and staying overnight in one of the quaint seaside towns like Port Campbell. While you're there, try some of the deliciously fresh seafood.
This short clip shows some of the most spectacular highlights of the Great Ocean Road -www.youtube.com/watch?v=uv6683Xeg-0.