Friday, December 21st, 2012
You've written your resolution and you're ready to party! New Year's Eve is guaranteed to be one of, if not the biggest party of the year and most big cities love to put on a show. Whether you are someone who thinks of NYE as just another night, or someone who loves to celebrate the occasion, there's no doubting that cities can look their magical best when they put their makeup on for the night. At Topdeck, we love celebrating New Year's Eve. Here's a run-down of what New Year activities we are going to be a part of this year (in no particular order).
1. Krakow, Poland
After a change from the usual NYE festivities last year, Krakow will once again fill their Market Square with musical performances that will include some of their best local acts. Aside from the NYE performances however, Krakow night life in general is known as some of the best in Europe.
A trip with Topdeck will allow you to experience the Cracovian night life on your first day, with a walking tour of the historic Jewish Kazimierz included in day two. The rest of day is then yours to do as you please, where you can take a walk through the mysterious streets of the Old Town and visit galleries full of exhibitions, cafes, pubs and restaurants. On day three, get ready to party and welcome in the New Year in Market Square!
More information and trip details for New Year's Eve in Krakow can be found here.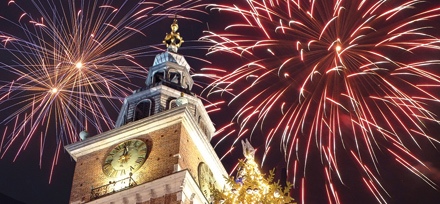 2. Amsterdam, Netherlands
Being the capital of Netherlands, and one of the most cultural cities in Europe, Amsterdam can be considered as one of the best cities in the world offering amazing museums, delicious food and a world renowned night life. After taking an included orientation tour of the city with Topdeck crew, feel free to explore the town on a Red Light District pub crawl with your new Topdeck buddies! You'll have time to visit the Rijksmuseum, Anne Frank House, the Van Gogh Museum and even the Heineken Experience during your time in Amsterdam. Alternatively, you may just want to sit back and relax in one of the local cafes!
Your New Year's Eve party is included on this trip and there will be plenty of opportunity to continue the partying in one of the many Amsterdam bars and clubs.
Read more on the New Year's Eve Amsterdam trip here.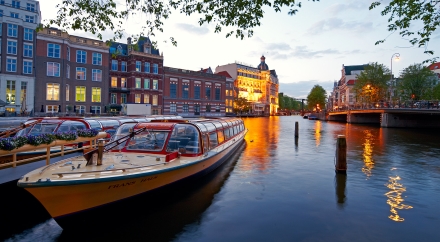 3. Edinburgh, Scotland
Celebrating Hogmanay (The Scot's word for New Year's Eve) in Edinburgh is always a great experience as the city has so much to offer. You not only have the beautiful castle perched atop Castle Rock but friendly locals and world renowned night life to keep you entertained throughout your stay. On day two, your Topdeck trip leader will take you on a sightseeing tour of Edinburgh to get you well acquainted with the city. On day three, you will have tickets to join over 100,000 locals and travellers in New Year celebrations at the world famous Edinburgh street party! With a headache no doubt in store for New Year's Day, you will then take a trip to Looney Dook where you can follow tradition and take a dip in the cold Scottish waters. Don't forget your fancy dress!
Find out more on the Edinburgh new Year's trip here.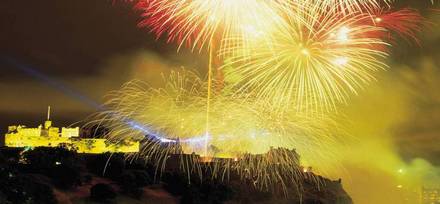 4. Berlin, Germany
Celebrating the New Year in Berlin is something that over one million visitors choose to do each year – and there's good reason why. On this trip, you will have an included group dinner to get to know your new Topdeck buddies before getting to know why Berlin night life has such a good reputation. The following day, you can get to know the city with the included walking tour, visiting some of the historic attractions including what's left of the Berlin Wall. The afternoon is then yours to explore!
The official New Year's Eve (Silvester) programme begins at 5:30pm in which international music stars and bands perform over various stages.
See more about the Berlin New Year's Eve trip here.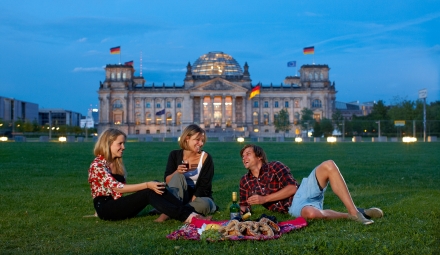 5. Sydney, Australia
Watching Sydney try and out-do itself every year with New Year's celebrations and fireworks means that you will always be in for a treat when visiting at this time of the year. On New Year's Eve, you will have the option to go for an early morning surf at the world renowned Bondi Beach or visit one of the iconic cafes along the strip overlooking the beach. Afterwards, a trip to Sydney's Rocks area, Circular Quay and the Opera House will ensure you get to see some of Australia's most beautiful and historic attractions. To get the partying underway, we will then get onto a two storey catamaran and begin the party cruise on Sydney's Harbour, with amazing views of famous Sydney landmarks. For those wanting to party throughout the night, there will be plenty of options all night long.
More information about our Sydney New Year's Eve trip can be found here.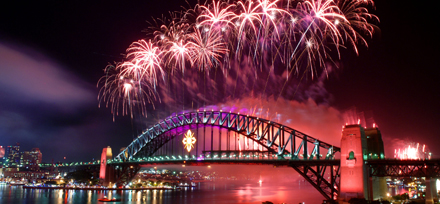 6. Prague, Czech Republic
Always a favourite of the Topdeck crew, Prague is a city full of history and a great place to party! A trip to Prague for the New Year will include a group dinner on the first night where you will then be able to experience the infamous nightlife for yourself. The following day, you will be able to explore the city, utilising the city's trams, having your caricature done by an artist on the Charles Bridge, taking a ride on a river boat, or just relaxing in one of many restaurants or bars.
Once the New Year celebrations begin, the locals usually head towards any location that has a view overlooking the river. These tend to include Charles Bridge, Petrin Hill, Prague Castle or the more lively Old Town Square where the odd firework or two is bound to be lit!
Read more about the Prague New Year's trip here.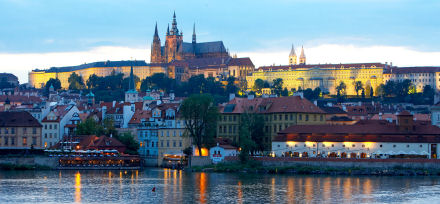 Don't miss out on celebrating the New Year in style!
See all of Topdeck's Christmas and New Year trips on our website here.