Tuesday, January 25th, 2011
Topdeck's Liana Szwajlyk describes the sights and delights of Egypt.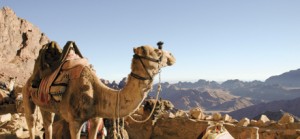 Being an employee of Topdeck does mean a deep passion for travel – but unfortunately the work doesn't get done by itself. There comes a point when we have to put down our backpacks and chain ourselves to the desk, to get the job done. Though, that doesn't mean we don't dream of travel….every-single-day! So, as I sit here reminiscing about warmer weather and my summer travels, (READ: my new form of procrastination) I thought I'd share with you a particular highlight - my recent journey throughout Egypt.
With me, the fascination with Egypt started at a very early age. Well, what child isn't intrigued with mummies, pyramids and the mysteries tied to this ancient civilization? So I was understandably thrilled when I had the chance to explore all that this captivating country has to offer, on Topdeck's 21 Day Ultimate Egypt tour.
My adventure began in the country's capital, Cairo, which proved to be quite an overwhelming experience and understandably so: Cairo is Africa's largest city and home to more than 16 million people. It's chaotic, exotic, smelly, dusty and also….beautiful! It won't take long before you acclimatise and get drawn in by the charm of this pulsating metropolis.
Cairo… The Egyptian Museum in the centre of town is a must-see, with its countless ancient Egyptian artefacts, including treasures from Tutankhamun's tomb. Similarly, I highly recommend shopping at the Khan al-Khalili Bazaar, where you can practice the age-old art of haggling for trinkets, spices and perfume in one of the world's largest markets. Here you might find yourself highly entertained by the shopkeepers' commentary, just as I was. These men yell just about anything to get your attention and then beckon you to look at their stalls. A few favourites of mine were: "How many camel for you to marry me?", "Look! Shakira, Shakira" and strangely enough "Welcome to Alaska?!".
Continuing on, no trip to Cairo would be complete without a visit to the pyramids - the only surviving Ancient Wonder of the World. In front of the pyramids lies the Sphinx, an enormous cat-like sculpture that continues to mesmerize millions of visitors.
Beyond Cairo… If a bustling metropolis isn't your dream destination, there is certainly more to Egypt than just Cairo. The real allure lies somewhere between the desert landscapes and dry, rugged mountains, the peaceful towns full of exotic smells and sights and the tucked away treasures known to few.
Egypt has something for every traveller!
Aswan…Let your cares melt away while drifting down the Nile on a traditional felucca sailboat in Aswan. Spend time sipping mint tea or puffing leisurely on a shisha and watch the world whirl past as it has for eons.
Luxor… Step back in time at the magnificent pharaonic tombs, temples and palaces found in Luxor. Wander wide-eyed amid the hugely impressive Luxor temple and the equal grandeur of Karnak temple. Visit Tutankhamun's final resting place in the hot, hidden Valley of the Kings and Queens.
Hurghada… Head to Hurghada for spectacular diving, stunning crystal waters and beautiful sandy beaches of the Red Sea. Test your skills with a myriad of watersports or simply bask in the glistening sun.
Dahab… Get back to nomadic life on a unique a desert experience in Dahab. Jump on a Jeep safari to the inner oases or trek up the stunning Mount Sinai. Follow this up with a well-deserved feast of freshly caught seafood, in one of the town's tranquil ocean-side cafes.
These are just some of the exotic attractions that await you. Don't just take my word for it, discover the essence of Egypt for yourself!
Explore the major sights and hidden treasures of Egypt on Topdeck's Ultimate Egypt trip, currently on sale from: £549pp
Topdeck offers a wide range of trips to Egypt, Morocco and the Middle East from 3 to 21 days.