Wednesday, August 14th, 2013
27. Spend a night in the Sahara
Picture this - endless amber vistas, Berber villages that ooze charm from every aged corner and roaring camp fires beneath glittering Saharan stars. Welcome to number 27 on our hotlist; spending a night in the Sahara.
The Sahara Desert is the world's hottest dessert and is rather phenomenal, fact. Covering a whopping 9,400,000 square kilometres and covering most of North Africa, this African gem rivals the U-S of A and China in size! Its sandy savannahs are home to a heck of a lot of camels (every nomad's vehicle of choice), addaxes (large white antelopes which alarmingly can survive a whole year in the desert without drinking!), African Wild Dog (not to be messed with) as well a whole host of spikey scrubs and Acacia trees.
This natural wonder is also home to the oh-so-friendly Berber folk who are the ethnic group indigenous to North Africa (west of the Nile Valley). These guys will undoubtedly welcome you proudly to their beloved Morocco and might even invite you round for a tagine and a round of mint tea if you're lucky! Traditionally, the Berber men take care of livestock and focus their efforts on grazing cattle, creating shelter and producing an abundance of wool, cotton and plants which are used for dyeing and producing goods. The women on the other hand look after their family and handicrafts - first for their personal use, and secondly for sale in the local souks. The Berber life is a refreshingly simple one and will definitely open your eyes to their fascinating culture.
Famously in 1978, a year after a certain French motorcycle racer (Thierry Sabine) got lost in the depths of the desert and decided a year later that the Sahara would be a perfect spot to host a rally raid type of off-road race. Thierry's crazy idea then morphed into the 'Paris-Dakar' rally that originally ran from Paris, France, to Dakar, Senegal. However nowadays, due to politics the mammoth rally (now known as 'The Dakar') has varied over the years and the 2013 rally went from Lima, Peru to Santiago, Chile.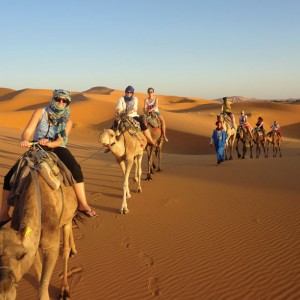 Get yourself face to face with the Saharan way of life and make some Berber buddies along the road too on our 8 day Sahara Adventure. On this whirlwind Moroccan trip you'll ski the sandy slopes of the immense Chegaga sand dunes,  dine under a sparkling symphony of stars at a desert camp where you'll rest up in traditional Berber tents, visit Ouarzazate (also known as 'Hollywood in the desert') and follow in the tracks of the original Paris-Dakar Rally.
Well that's the Sahara in a nutshell, so all that's left to say, in the words of The Clash…is…rock the Kasbah!
Topdeck Top Tip: Don't even think about venturing the Saharan alone, there is an extremely high chance you could vanish permanently.
Want to get up close with the legendary Sahara?
Tick this natural beauty off of your bucket-list and book onto Topdeck's 8 day Sahara Adventure https://www.topdeck.travel/tours/sahara-adventure