Tuesday, February 12th, 2013
Did you know that in 2013 Topdeck celebrates its 40th birthday? How time flies! Since our first trip in November 1973 we've spent four decades sharing incredible travel experiences all over the globe with our passengers.
In anticipation of our birthday we're going to be featuring 40 of our favourite experiences over the next 40 weeks – a travel wish list that has proved virtually impossible to narrow down!
How many of them have you done? And how many would you love to do? Check in weekly to read about some of the most unforgettable travel moments on this amazing planet of ours, and perhaps get inspired for your next travel adventure!
Explore. Enjoy. Share the Experience with Topdeck.
1. See the Eiffel Tower sparkle
What's the most recognisable landmark in the world? If you answered the Eiffel Tower, not many would disagree with you. This elegant behemoth is beloved by Parisians… but it wasn't always so. Did you know that for a long time after its construction in 1889, the Eiffel Tower was widely despised by many locals?
Designed as an entrance arch to the 1889 World Expo, the tower was originally intended to be a 20-year temporary structure… but the time came and went while the tower remained standing. Over time even the notoriously picky Parisians grew to love it – as do its estimated 7 million visitors per year!
Already iconic, the Eiffel Tower became even more dazzling (literally) in the year 2000, when a flickering light display was installed for the millennium celebrations.
It went down so well that it has remained in place ever since and the tower performs a nightly spectacle on the stroke of each hour.
For around five minutes the Eiffel Tower glitters above the Parisian skyline, as though the world's paparazzi have swarmed up to every possible vantage point and started photographing the stylish city on the Seine.
The Eiffel Tower has endured Parisian cynicism, thwarted the ambitions of Hitler, and even survived a sneaky bungy jump from a mulleted young Kiwi called AJ Hackett! It has cemented its place in the cast of the world's great landmarks and firmly deserves a place on any travel wish list.
Topdeck Top Tip: For a great view watch the display from the Champs du Mars parade ground below the tower, where the symmetrical gardens and tree-lined walkways act as the perfect frame for one of the most eye-catching displays in Europe. What's even better is that it's completely free!
Check out AJ Hackett's bungy jump here: www.youtube.com/watch?v=iAyA2dZn8Ns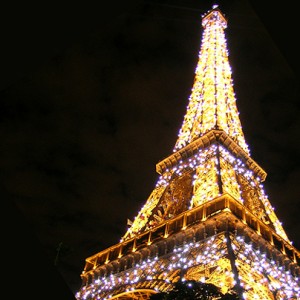 Have you seen the Eiffel Tower sparkle?
Share your best Eiffel Tower pics and Topdeck memories with us!