Monday, November 5th, 2012
By Emily Grindrod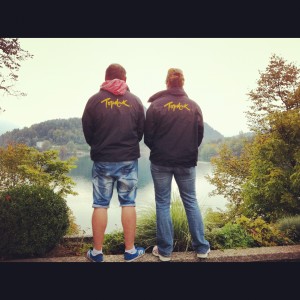 I am in Paris right now. In a large brasserie of which the interior has not been updated since the 80's, but it still looks perfect. Style that lasts in this joint! This could be any café or brasserie in Paris, I make a point of visiting a new one every time I am in this city, usually comparing the croque madam's – ham, cheese and fried egg on toast. It is easy to walk in off a Parisian street to any number of establishments and be served. The waitress here (most likely another installment from the 80's), first yelled at me, thinking I was another tourist off the Gard du Nord station, where the Eurostar comes in, sneaking in to use the toilets. Then after I ordered she kindly brought me the Internet code and helped me enter the password despite me not having asked for Wi-Fi.
I have never come to Paris via Eurostar before, but I am not here with work. Usually by the time I hit Paris with a fresh group of Topdeck passengers the anticipation for the city of lights is palpable on the coach. I am here for the first time as a tourist myself, my dad is in Geneva on business and he is stopping in Paris for two nights and I have hopped over the channel to visit him. I leave in two days and hit three capital cities within 8 hours – Paris to London, London to Madrid to start a month of vacation before I hit the road again in our big blue, white and yellow Topdeck coaches for the winter season. And I am beyond excited to be spending New Years Eve in Florence, my favourite city in southern Europe. No doubt my passengers, driver and myself will be ringing in 2013 in the Red Garter, a bar which Topdeck coaches have frequented nearly since the company's inception.
Speaking of vintage Topdeck, I made a friend in Amsterdam who is somewhat of a vintage Topdeck passenger.  On my very first trip as a fully-fledged trip leader I took my passengers to a funky bar in Amsterdam: "The Waterhole". Live music, on Sundays it's jam night, decorated with crooked pool tables, and completed with a Hells Angel as the doorman. The first time that I took passengers there, there was a guy in the corner painting water colour portraits of people in the bar on the back of placemats (I later learned that it was beer, not water that he mixes with the paint). He recognized my Topdeck crew jacket and he told me that he had done a Topdeck trip in 1980 and it was one of the best summers he could remember.  He also said that he was glad that Topdeck still maintains an ethos of having fun and sharing with friends, with an appreciative nod toward some of my group who were bopping around on the dance floor, singing along to a classic rock hits and arms around one another. Every time I go to "The Waterhole" I look for my friend and we have a catch up. As it turns out he is a Toronto native, where I went to university and lived before working for Topdeck and went to boarding school in my hometown of 50,000, Belleville  (the biggest thing in my home is the boarding school). Talk about a small world. It is these people that add even more amazement as to how much I love my job.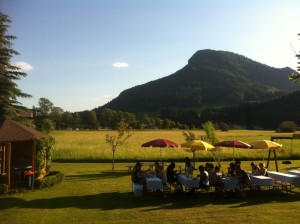 After a jam packed season of quickly falling head over heels with my job I am ready for some rest and relaxation. The last week of my last 28 day Grand European tour was probably my favourite part of the trip and kept me very busy. The week started off with leaving Slovenia and heading to Tyrol in Austria via the beautiful Lake Bled. This lake is so relaxing and a welcome quiet couple of hours as everyone wanders around the water. Some of the guys went down a luge type ride on a fixed track while most other people looked at swans and ducks, morning rowers and the island with a church on it and sipped coffee at cafes. My Irish driver, Leon, and I decided it would be a great idea to row out to the island. We rented a boat for an hour at only 6 Euros each and began rowing out. After about ten minutes of a backwards technique, me in hysterics and nearly going in circles I took over (apparently they don't have rowboats in Ireland!). My outdoorsy mother would have been so proud, 23 summers spent on a lake in rural Ontario proved to be great training for our great Slovenian boat adventure. Waving to laughing passengers we slowly made our way to the island, Leon navigating and me splashing him as I rowed (totally by accident of course!). After a couple of tries at docking we were on the little dock at the island – along with the other people who had the brains to get on a larger boat that was rowed by someone who gets paid for that type of thing.  After walking around the island (which doesn't take long) and taking some pictures we headed back, splitting the rowing duty this time now that Leon had seen how its done!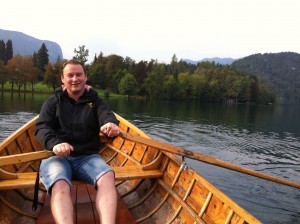 After gathering the troops back to the coach we were off to Tyrol.  The people are friendly, holding on to traditions such as local dress and making their schnapps at home while managing to be a huge destination for the ski season. We stay at a big guest house which is very homey and a real treat to stay at. After a barbeque, board games and a few beers some of the passengers caught a taxi into a local bar to watch a football game, whoever was left at the bar with me and subject to more beers, some sort of local shot that has to be set on fire for three minutes before you drink it, and really bad dancing. Most of us were in our socks at this point. That night we saw the likes of gymnastics, a drinking game where one infuses yoga with picking up a shot glass off the ground with your mouth and no hands, highland dancing (from yours truly and reserved only for 1AM at weddings and nights like this) and the worst attempts at the "worm" since my school graduation party. The next morning some of these people were jumping out of planes and parasailing.
Tyrol is also well known for its extreme sports opportunities. Two of my passengers who signed up for paragliding were very scared of heights. I told them that I am terrified of heights and I have paraglided in Tyrol and as soon as you are lifted off the ground the fear is immediately forgotten in a rush of adrenaline and awe at the landscape that unfolds in front of you. My two passengers came back telling me how grateful they were that they didn't back out and it was the highlight of their trip so far. It is moments like this that I love my job the most, more than the great food that I can enjoy, the friends that I have made on the road, the blurry nights in an Austrian guest house or an Amsterdam bar. It is the moments when passengers have overcome a fear, achieved something on their bucket list, when a picky eater tries snails in Paris, or when at the end of the tour people have been able to make a life decision, I have had a girl in the US army decide to return for another stint and someone on their gap year be inspired by Europe to study history. It is those moments that make me realize what a fantastic job I have.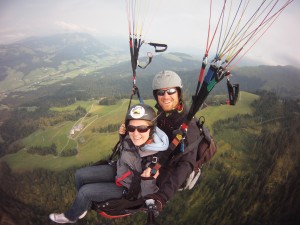 From Paris, with love!
Take advantage of our Early Bird Deal with Europe Summer 2013. Book your Topdeck Europe Summer 2013 trip and pay in full anytime before 28 December 2012 and save 10% with our fantastic early bird offer!