Monday, February 25th, 2013
3. See sunset at the Grand Canyon
The Grand Canyon in Arizona, USA, is so colossal that it's difficult to put into perspective. Try this – imagine gazing into the canyon to see four Empire State Buildings on top of one another. They still wouldn't reach above the rim!
The Grand Canyon is the product of the Colorado River eroding its way through Arizona's sedimentary rocks, exposing 2 billion years of geological history in the process. The stats are mind-boggling: 277 miles long, up to a mile deep, an average of 10 miles wide, not to mention one of the Seven Natural Wonders of the World.
It has captivated visitors for centuries, from the local Pueblo Native American tribes who revere it as a holy place, to daredevils such as the late Evel Knievel who viewed it as a giant adventure playground.
Visitors have a few different options to take in its beauty; for adrenaline seekers, a helicopter flight reveals the majesty of Grand Canyon from the air, while for those who prefer keeping their feet on the ground, a hike below the rim escapes the crowds and unveils the canyon's full range of climate zones.
And those who want the best of both can try the Skywalk, a hair-raising glass-bottomed walkway which extends out over the 4000ft abyss!
Standing on the edge of this gargantuan gorge at sunset is a particularly enchanting experience, as the surrounding landscape comes to life and glows in layers of fiery red. It's a striking vision of America that seems somehow new and familiar at the same time.
But if you're still having trouble picturing its scale, then here's a fun fact to finish: it would take a herd of 1 million cows up to 200,000 years to fill the Grand Canyon with methane…
We'd love to see that happen, one way or an udder!
Topdeck Top Tip: Only 2% of visitors hike below the rim, so it's a great way to avoid the crowds. However you should be aware of the change in climate – the canyon floor can be up to 7°C hotter than the rim in summer! Prepare accordingly and take lots of water with you.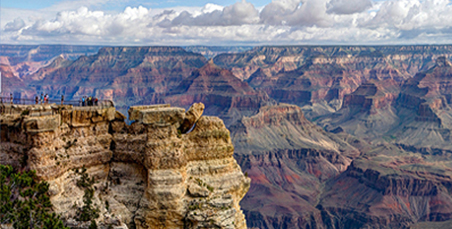 Been to the Grand Canyon? Own 1 million cows?
Share your favourite Grand Canyon memories with us!
Entertaining Grand Canyon media