Tuesday, July 9th, 2013
22. Watch a show on Broadway
Mamma Mia! If you're in Chicago you're in the wrong city and if you're surrounded by Jersey Boys you're in the wrong borough. Guys and Dolls, get yourself to New York and come to the Cabaret!
As if there isn't enough to do in New York already, it's also home to one of the most electrifying entertainment centres in the world – the theatres of Broadway. Broadway is actually a 24km long street running through the entirety of Manhattan and The Bronx, but the name is almost universally associated with the theatre district - encompassing 40 theatres, only four of which are actually located on the street of Broadway.
The 1940s ushered in the golden era of the Broadway musical when Richard Rodgers and Oscar Hammerstein combined their skills to create dozens of smash shows. With Rodgers composing the music and Hammerstein writing the lyrics, they created shows such as Oklahoma!, Carousel, South Pacific, The King and I and The Sound of Music. West Side Story followed not long after, and musicals quickly became big business in the Big Apple.
As the famous line from Cabaret goes: "Money makes the world go round", but that's not to say that any musical showing on Broadway is guaranteed to rake in the big bucks. It's a cutthroat industry, and during the past 50 years, 75% of Broadway musicals have failed to make a return.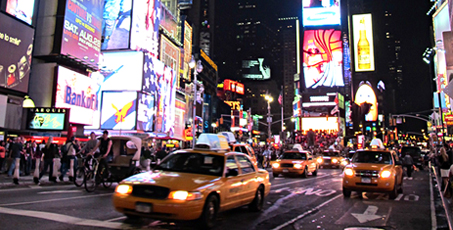 Tim Rice and Andrew Lloyd Webber, another famous musical writing team, combined to create Jesus Christ Superstar in 1970, one of the first examples of a rock opera. Lloyd Webber's The Phantom of the Opera opened on Broadway in 1988 and you can still see it today, over ten and a half thousand performances later!
Current hot tickets on Broadway include Kinky Boots, Wicked, the Book of Mormon, and Avenue Q, but with 40 theatres and fierce competition between shows, it's a safe bet that you'll have a memorable evening whatever you see. That's showbiz, kids!
Topdeck Top Tip: You can bag a discount between 25 to 50% on Broadway tickets by lining up for same-day tickets at the two TKTS kiosks in Manhattan. One is in Times Square at 47th Street and Broadway, and the other is in the Financial District at the corner of Front and John Streets. The most popular shows are unlikely to be available, but tickets may be released several times a day, so it's still possible to grab great seats by stopping by at 6 or 7pm when queues are shortest.