Wednesday, April 27th, 2011
Topdeck's travel blogger, Liana Szwajlyk, relives her first-ever (and only!) Pamplona experience.
Singing erupts from a sea of white and red. Viva San Fermin!! It's 8.00am. The first rocket focuses my attention, a second signals the bulls are on their way. The sea is now moving. Slow at first but running, turning, now faster as the hooves descend.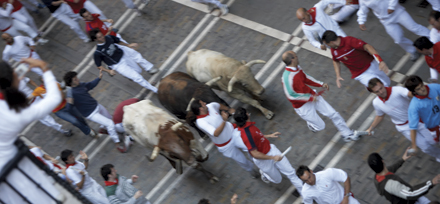 "Why am I here?" This was the thought going through my mind as I prepared for the enierro, the famous Running of the Bulls in Pamplona, Spain. The night before, I'd been cruising Pamplona's bars, fuelled with Sangria induced bravado. "I'm a pretty fast runner" I thought. I could outrun a bull or two. "What the hell, I'll give it a go."
A few sleepless hours later, there I was standing – knees shaking – on Santo Domingo Road for what could have very well been the last day of my life. Waiting impatiently with a few hundred adrenaline seekers, my stomach churns and I now realise what actual fear feels like.
8.00 am: The sharp shot of the first cannon sounds. Some run already. Having absorbed the advice of every 'expert' I've talked to, I hold firm - until the second cannon. The crowd's nervous tension is released as they take off.
People are yelling and hollering; it seems I'm one of them. As I start into a full-out sprint, I have a horrifying realisation: I can run only as fast as the people in front of me. At this moment, self-preservation takes over, and I switch from a running-in-sheer-terror tactic to a run-push, run-push strategy – focussing on nothing but the next step in front of me.
The roar of the crowd grows louder and the ground shakes as the bulls hurtle along the course. They're coming. People manically scramble to save their skins. As I look to my left I realise I'm now running with the bulls, rather than away from them…
The next five minutes are a blur until the third rocket sounds.
The enceirro is over!
Happy to be alive and happy to be alive…did I say that twice?
As the bulls continued course (and are way out of sight), I decide that I've had enough adventure for one day and leave to share my war stories over many more glasses….well perhaps jugs, of Sangria!
Relief and celebration!!
Check out Topdeck's 4 Day Pamplona Hotel trip and 7 Day Picador package.