Monday, May 13th, 2013
Most people are familiar with at least a couple of the festivals the Spanish celebrate every year, whether it's the carnage of Running of the Bulls in Pamplona or the tomato-throwing extravaganza of La Tomatina, the Spanish festivals are famously eccentric.
Only a handful of people are familiar with one of the most peculiar. The tiny town of Haro in the beautiful Rioja region of Northern Spain hosts something completely bizarre on 29th June each year. To mark St Peter's (San Pedro's) day, thousands of locals come together to dump bucket-upon-bucket of red wine on each other!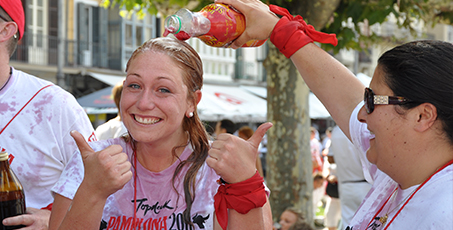 The 'wine battle' as it's known, originates from a dispute between Haro and neighbouring town Miranda De Ebro regarding who owned the mountains between them. Nobody knows who was the first to throw wine at their rival, but now locals from the entire region (along with a handful of tourists) come together in friendship instead of feud to celebrate, drink, dance, and last but not least, soak each other to the bone in red wine! Most of the local's 'weapon of choice' is a bottle of wine, but those going for accuracy carry water pistols while those going for sheer volume carry buckets! When the once-white t-shirts have turned sufficiently pink, the drenched participants gather round bonfires to dry-off while eating tapas and drinking delicious Rioja wine. What could be better?!
One of the best things about the wine battle is that, for now, it remains a local affair. Tourists in Haro are still a novelty who are welcomed into the celebration with open arms. It's only a matter of time before the festival booms in popularity in the same way as the other aforementioned Spanish festivals, but for now the wine battle is a unique and authentic taste of Spanish culture.
The Spanish reputation for partying late-into-the-night makes it one of the most hedonistic countries in Europe. While most tourists flock to the concrete seaside resorts of the Costa del Sol, the vibrant cities are where the genuine Spanish lust-for-life can be found.
Topdeck's Spanish Sun and Fiesta trip combines a visit to the wine battle in Faro alongside four incredible cities. Vibrant Bilbao is first up – capital of the Basque region - followed by Madrid, the stunning and historic Spanish capital. A perfect trip is rounded-off with three nights in San Sebastian, a buzzing beachside city and surfer's paradise, and finally a visit to Pamplona for the fireworks-filled San Fermin festival and the chaotic running of the bulls.
After an incredible twelve days, four cities and two mind-blowing festivals, we say a reluctant and exhausted adios to our amazing Spanish adventure!