Tuesday, July 30th, 2013
25. Surf in the Pacific Ocean
Whether you're a keen surfer or not, you may know that some of the best surfing locations in the world can be found somewhere along a Pacific Ocean shoreline. Put your surfboard under your arm and skateboard to Australia, the United States, Indonesia, Peru, El Salvador, or any of the Pacific Islands and you'll be sure to find those gnarly, far out heavies that will make you want to hang ten all day, everyday.
Covering one third of the total surface area of Earth, the Pacific Ocean is big. It's so big that even if all the continents of the world were put together, it would still cover more surface area. Nice try, continents!
The Ocean was originally named 'Mar del Sur', or 'Southern Sea', by Spanish explorer Vasco Núñez de Balboa however it was Portuguese explorer Ferdinand Magellan who sailed into the apparent 'calm waters', naming it ''Mar Pacífico', or 'Pacific Ocean'. Whether Balboa or Magellan had time to wax their boards and go for a paddle, we will never know.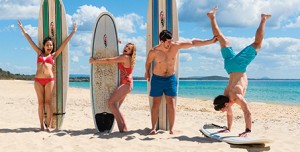 In Australia, surfing hot spots can be found up and down the East Coast of the country with Sydney, Byron Bay and the Gold Coast being amongst the most popular locations. The United States are lucky to have the Californian coast and Hawaii - the home of surfing, to attract surf-lovers from around the world. The Pacific Islands and South America also host some amazing surf spots and are popular locations for many dudes and dudettes. This year the ASP World Championship is hosting surfing competitions at a variety of Pacific Ocean locations including the Gold Coast (Australia), Tavarua & Namotu (Fiji), Bali (Indonesia), California and Hawaii (USA). If you're looking for the best surfing spots, just follow these guys!
Whether or not surfing is on your personal bucket list, the Pacific Ocean coastlines boast some of the world's best beaches and are definitely worth seeing.
Topdeck Top Tip: If you're a beginner, don't forget to lay on the sunscreen. You might feel cool and refreshed by being in the water but the sun still packs a punch! It might also be worth getting to know your surf spot, including any possible dangers, before jumping into the water.
Kelly Slater and co. riding some tubes at a surf competition in Fiji: www.youtube.com/watch?v=RFTOrFvnm8s
Can't make it to the beach? Here's 4 hours of surf waves to make you feel like you're there: www.youtube.com/watch?v=cRrsgqY1IAw