Tuesday, July 16th, 2013
23. Kiss the Blarney stone
Ever dreamed of puckering up and kissing Winston Churchill on the lips? Hopefully not, but hey, whatever floats your boat! Without grave digging (and really, who still does that in 2013?), the closest you could come to your fantasy is kissing the Blarney stone. At the same time you'd be kissing the same spot which millions of people have placed their lips on - all with the goal of obtaining the famous Irish 'gift-of-the-gab'.
The origins of this magical stone are murky. The best (and therefore most true) story is that Cormac McCarthy, the 12th century King of Munster, saved a witch from drowning so she awarded him the powerful stone, which he kept in his stronghold of Blarney Castle - where it remains today. After the witch empowered the stone, she (obviously) gathered the local leprechauns and requested they tell all the good people of County Cork that anyone who had the courage to kiss her 'Stone of Eloquence' would be rewarded with "the eternal gift of gab."
Eight centuries later, around 300,000 people each year make the trip for a quick smooch with the rock, which is located in the beautiful grounds of Blarney Castle in the south of Ireland. Cormac McCarthy did not make getting to his prized stone an easy task. Firstly, you have to climb up a narrow and spiralling rock staircase to get to the top of his tower. Secondly, the stone is wedged deep underneath a battlement. In days gone by, people were held upside-down by their heels in order to reach the stone. With dozens of them falling to their deaths, the clever people at Blarney Castle have developed a much safer method! You approach the stone, lie on your back, slide backwards and pucker up. And not to worry, a little Irish man will be holding your legs tightly.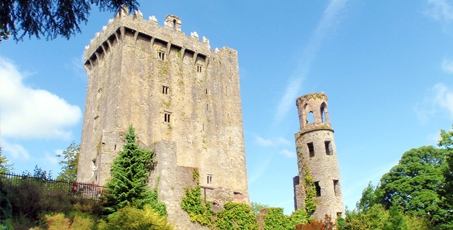 No one knows the full amount of articulate and eloquent politicians, actors, literary giants, and business and religious leaders, who owe some, or perhaps all, of their success to the magic of the Blarney stone. Just think, this year you could be kissing the stone, and next year you could be collecting the Nobel Prize for Literature. It's more or less guaranteed*.
(*not a guarantee).
You can snog the Blarney stone on Topdeck's Britain & Ireland, Celtic Trail, and Winter Britain & Ireland trips, where we enjoy a 'Totally Topdeck' included trip to Blarney Castle.