Tuesday, June 11th, 2013
18. Hike on a Glacier
It's a question as old as time: if Oprah Winfrey was a geological formation, what would she be? Let's list her traits – extremely powerful, influential, and probably very slow moving. "Glacier", I hear you say? Correct!
Cast your mind back to joys of high school geography. For me, it's hard to remember anything apart from my teacher Mr Gordon's questionable fashion sense and offensive breath. However I do remember that glaciers are huge bodies of ice which, with the help of gravity and their own sheer weight, carve out U-shaped valleys through mountains. Thanks Mr Gordon!
Unless you have enough free time on your hands to sit and watch a glacier for a couple of months - you probably won't see much happen! Most move at a rate between zero and half a kilometre (0.3 miles) per year. The appeal of hiking on a glacier is the sensational surroundings of snowy peaks and epic, eroded cliff faces. The thought that a pile of snow and ice has cut through something so strong like a hot knife through butter is mind-blowing! There is something about being surrounded by the immense power of nature which puts things in perspective.
The Fox Glacier deep in the Southern Alps of New Zealand's South Island is one of the most astonishing in the world – being one of the only glaciers to begin in a snowy Alpine peak and end in lush rainforest. The diversity of the scenery between the top and bottom shows you first-hand why New Zealand is one of the most spectacular countries in the world.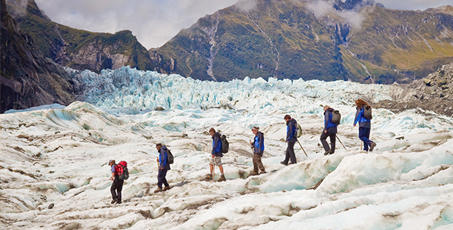 Topdeck's new Canadian Rockies trip will take you to the Athabasca Glacier in the Columbia Icefield. This is the most visited glacier in North America for good reason, and we do it in style with an included 'Totally Topdeck' guided hike onto the glacier. Because of a warming climate, the Athabasca Glacier has been receding or melting for the last 125 years – leaving a surreal moonscape of rocky debris in its wake.
The Pyramids, Eiffel Tower, Great Wall of China – there are many immense man-made attractions in the world, but there's something quite special about seeing one of nature's own attractions. A hike on a glacier is a thrilling and oddly moving experience, and takes its well-deserved place at number 18 on Topdeck's list of 40 things to do before you're 40!
Topdeck Top Tip: Glaciers may be icy but don't let that deceive you – UV rays are intensified when reflecting off the ice so you can become sunburnt very quickly. Make sure to wear high-factor sunscreen, along with decent footwear and warm socks!
Video 1: Helicopter ride over the Fox Glacier, New Zealand www.vimeo.com/31881387