Monday, September 10th, 2012
The Topdeck London office breathed a collective sigh of relief on Friday, August 31. After months of hard work, late nights and tired eyes we launched the 2013 Europe Pre-Release.
So what goes in to putting together all the information you find in these delightful digital pages? A lot more than you'd think I'd suspect.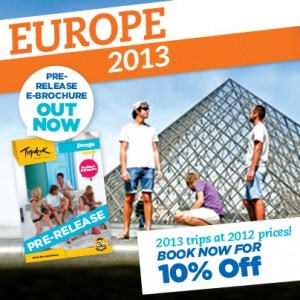 First up, our operations team work with our Europe-based suppliers (hotel, hostels, campsites, restaurants etc) to find where and when we can fit you all in. The really tricky part is that they have to do all this right in the middle of Europe's peak travel season. This means they have to juggle organising next year's trips while dealing with the ones that are currently on the road.
While all this is happening, the creative brains in the Topdeck Design team are laying out the pages, finding photos, creating maps and editing itineraries to fit snugly into our brochure format.
Once the Operations guys have put all the dates together and calculated the pricing for the seven currencies we sell in everything is sent to the Design team and this is where the fun really begins.
It's up to a few unlucky souls to check and re-check each and every date, price, itinerary and map in the brochure. At this stage the brochure goes to the big bosses in management for the final seal of approval.
Next, the brochures are sent off to print and all the dates and prices are loaded onto the Topdeck website.
But there's no rest for the wicked. While the Pre-Release brochure might be done and dusted we still have the Europe 2013, Australia and New Zealand, Africa and Festivals brochures to look forward to.
So next time you're flicking your way through the Topdeck brochure in your hand (or on the screen), take a little time to admire our hard work.
***
Book your 2013 Europe summer trip now & save up to 15% when you book and pay in full before 30 September 2012.