Friday, December 16th, 2011
by Kara Segedin
Boarders, snow bunnies and ski-bums listen up!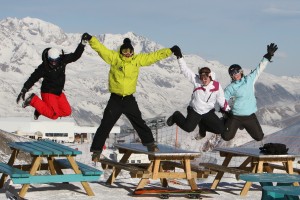 The European boarding and skiing season is ready to kick off and if you are itching to get out among the white stuff then pack your bags for Les Deux Alpes, France.
Whether you're a relative newbie, pro or a complete beginner a Topdeck snow vacation will help you make the most of your time on the slopes.
But it's more than just the skiing and snowboarding, it's the whole experience. There's the fresh mountain air, stunning scenery and the chilly nights spent soaking your muscles in a steaming hot pool after a hard day up the mountain.
And not to mention the Après Ski!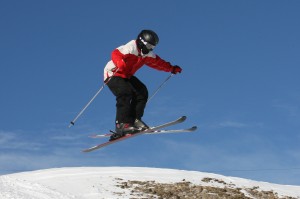 Topdeck's Festival Manager Heather has been busy putting the final touches on the 2011/2012 ski season packages.
"Ski resorts are expensive, but with our Topdeck ski trips you know exactly how much you are going to spend," she says.
It's all included
All your ski or snowboarding gear, lift passes, lessons, meals and accommodation are all included in the trip price. You also get access to other ski resorts in the area, ice skating and heated swimming pools.
"Once there the only thing you will have to pay for is your drinks!"
The Mountain
Les Deux Alpes is a bustling resort in Rhône-Alpes region of France with some of the best skiing and snowboarding in Europe and guaranteed natural snow.
It has about 220km of pistes (runs) and 2300m of vertical drop. There are tracks to suit all abilities from experts to those still learning the ropes.
If you're a snowboarder who wants to try out some tricks there is also an extensive snowpark with a halfpipe, multiple kickers, two boardercross courses and many grinding rails.
Les Deux Alpes is Europe's largest skiable glacier and France's second oldest ski resort. The name "two Alps" refers to the two villages (Vénosc and Mont-de-Lans) that sit either end of the resort plateau.
Snowfalls over the past two weeks have been better than expected with most European resorts experiencing significant snowfalls.
Last week, Les Deux Alpes got 30cm of new snow and further snowfalls are expected.
Where You'll Be Staying

A wooden and stone chalet, UCPA Les Deux Alpes Hostel is 100m from the ski area and 2 minutes' walk from the town centre.
All rooms have rooms have shower and sink ensuite with toilets a few steps away in the corridor. The Hostel features a heated pool and a terrace overlooking the Ecrins National Park
With over thirty bars and pubs the nightlife in the resort is buzzing.
How We Do It
If you are making your own way a shuttle will collect you from either Grenoble Airport in France or Geneva Airport in Switzerland.
When you arrive at Les Deux Alpes you'll be greeted by a Topdeck Ski Rep.
The rep is kind of like a trip leader on the Alpes. They're there to help you out with all your questions and organise pub crawls and events for the group.
You'll be asked if you're a skier or a boarder and you'll be kitted out in all your gear for the week.
Don't worry if this is your first time skiing as everyone is entitled to 12 hours worth of ski or snowboard lessons so you'll be speeding down those trails in no time.
What you get:
Guaranteed natural snow.
Multi-share accommodation in UCPA Hostel.
Lift pass with access to 3 resorts (covers 6 ½ days at Les Deux Alpes, 2 days at L'Alpe d'Huez and 1 day Serre Chevalier).
Equipment hire.
Up to 12 hours of lessons.
All meals at Les Deux Alpes resort.
Leisure pass with access to heated swimming pool and ice rink.
European trained Topdeck Crew and Ski Rep.
Awesome Topdeck après-ski.
What to bring:
Snow clothes
Travel insurance